We also are in search of family members of our fallen officers. If you have any of the requested information, questions or comments please contact us by email at oklememorial@aol.com.
"There is much in the roll of a law enforcement officer that changes over the years. Two factors remain constant: A dedication to serve and a willingness to make whatever sacrifices are required" –Unknown


Welcome to the Official Website of the
Oklahoma Law Enforcement Memorial.
The Oklahoma Law Enforcement Memorial and this web site honors the sacrifices made by our fallen officers and is dedicated to the service of all law enforcement officers and their families in that service. It honors all officers who served in or died in what is now the state of Oklahoma. We strive to present the most accurate information about our fallen officers in the most respectable manner. We are in constant need of additional information, documentation and pictures of our fallen officers. Just because an officer's name, story and picture appears on the Memorial web site does not mean we have all of the available documentation or information on that officer. We ask everyone's help in obtaining as much information on each of our fallen officers. We have put together permanent resource files for each officer. In the future all of the information in these files will be available to everyone for viewing. This will be an on going project. Hopefully in a few years we will be able to have a permanent Resource Center where the information will be available to their family members and interested history researchers.
Oklahoma Law Enforcement Memorial
Honoring Their Service and Sacrifice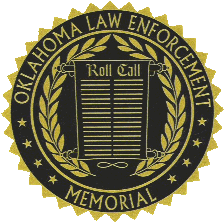 .....Click here for comments or questions about this website or the memorial .....
Memorial Renovation Photos and Videos